You put the Hardware, Amahi puts the Software
To run Amahi you need
A Linux DVD (Fedora or Ubuntu) from the torrents or mirrors
A PC (or a Marvell Plug Computer) to install Amahi on
A working Internet connection
Some people use Amahi headless (no video or keyboard/mouse, in the basement or the garage). Some people also use the system as a desktop. The choice is yours!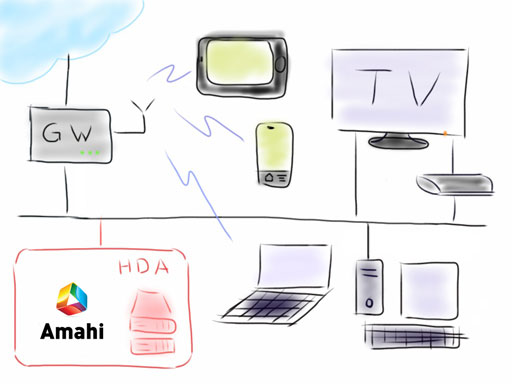 Hardware: PC or Plug Computer
Some people like to install Amahi on the latest/fastest hardware with a lot of storage, others prefer a power-efficient and quiet PC or Plug Computer.
Amahi supports the following architectures:
PCs with a 32-bit x86 processor
PCs with a 64-bit x86-64 processor
Plug Computers based on the Marvell Plug Computer architecture. We call this the Amahi Plug Edition
For the ARM architecture, Amahi supports devices based on the Marvell Plug Computer architecture and similar ARM-based devices.
The default installation instructions are based on a PC, 32-bits or 64-bits. See the Amahi Plug Edition wiki for installation instructions for the ARM version.
Alternatives to Amahi
If Amahi is not work you, some alternatives include FreeNAS, openfiler, Windows Home Server, ClearOS, Zentyal, OpenMediaVault. Don't forget that you can also suggest new features directly to the team!